Wedding photography has a mixed reputation. Most photographers see it as the go-to genre to make a living, but it's one of the most overlooked ones in art circles. That's why, today, we're going to give the genre its due by highlighting ten striking wedding shoots that swept social media off its feet.
1. The Wedding Interrupted by a T-Rex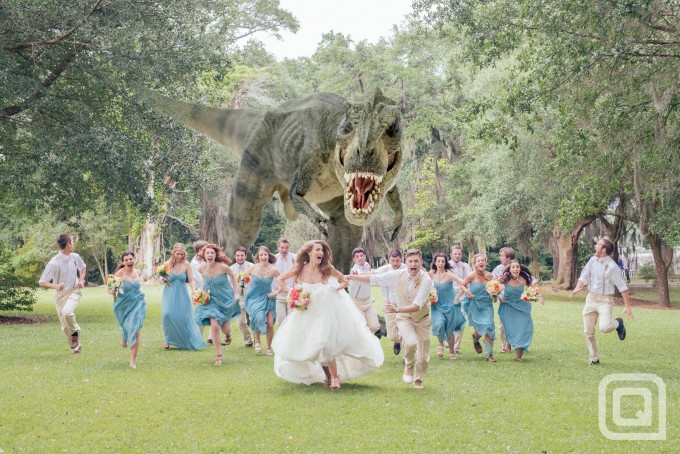 Share on Pinterest
From Quinn Miller Photo and Design
Dubbed "The Greatest Wedding Photo in the History of the World" by the internet, and who are we to dispute them?
This entry comes to us from photographer Quinn Miller, who was happy to report that he had no problems coordinating it. "They are such a fun … wedding party that all I had to do is tell them to run away from an invisible dinosaur. And they did. We did it in one take."
It's unknown who first came up with the concept, but Miller clarifies that the groom was a huge fan of dinosaurs, and was enthusiastic about it and happy with the results. (Photoshop quality aside…) This proves how far a simple concept and enthusiastic participants can take you.
Unfortunately, it seems that T-rexes have since made a habit of crashing weddings…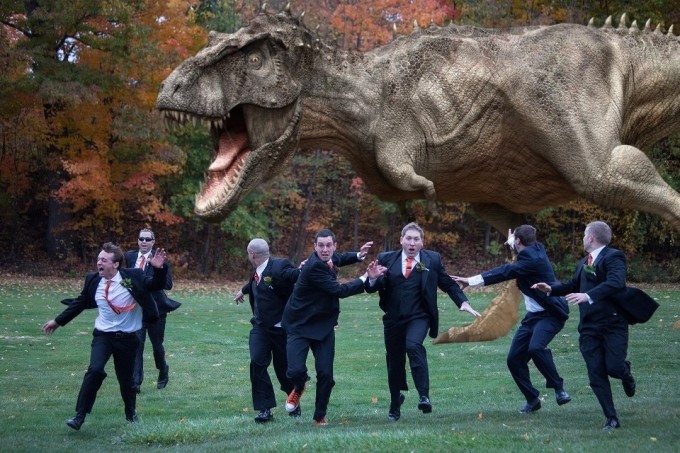 Share on Pinterest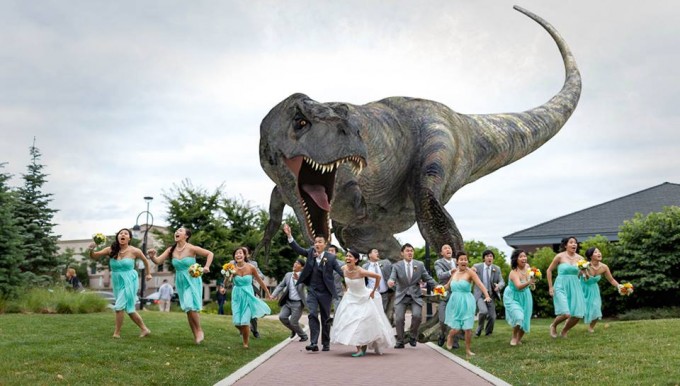 Share on Pinterest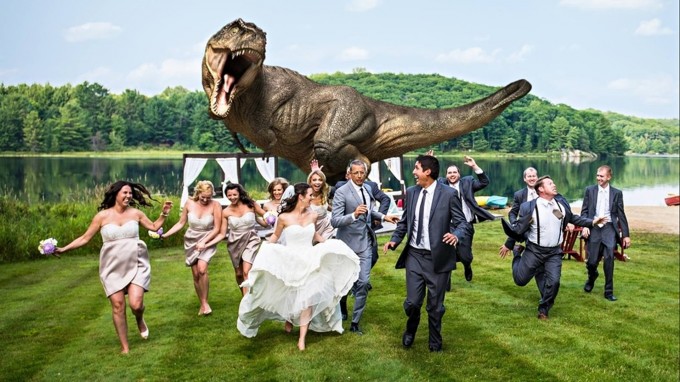 Share on Pinterest
From The Guardian. Note Jeff Goldblum.
2. The Wedding Interrupted by AT-ATs
When Toronto couple Leslie and Paul Kingston got married, they decided to stage something similar, but with the iconic enemies of a different franchise. So, with the help of photographers Tony and Danielle Lombardo, they ended up with this:
Share on Pinterest
Unlike some of the other ones that used CG, this one's just a bit of old-school trick photography. They briefly stopped traffic on a Toronto avenue to get a photo of the bridal party running down the street, shot a toy AT-AT from three different positions against a seamless backdrop, then combined the two photos.
3. The Wedding Enhanced by a Tornado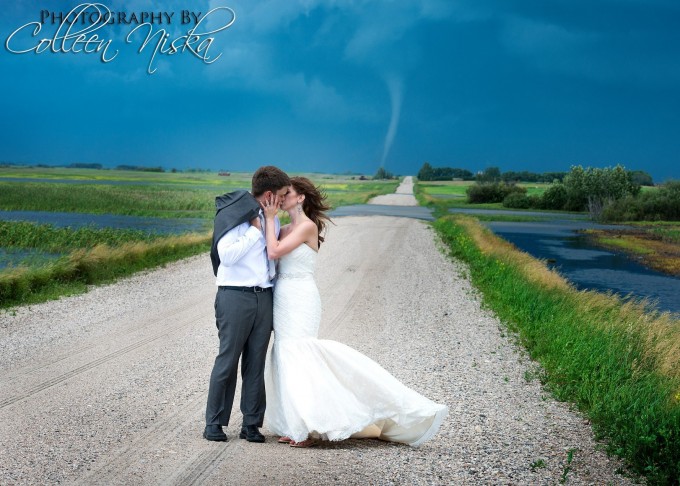 Share on Pinterest
When two tornadoes touched down in the area of a Saskatchewan couple's wedding reception, instead of fleeing, they decided to use it as a backdrop.
In the words of photographer Colleen Niska, both her and the couple "weren't really that scared" of the tornado. "We had a vehicle, [and] we were so far away, we had time to get away."
Lesson learned: Just like in marriage itself, fearlessness can be a key component in the success of a wedding shoot.
4. The Wedding that Helped the Victims of a Drought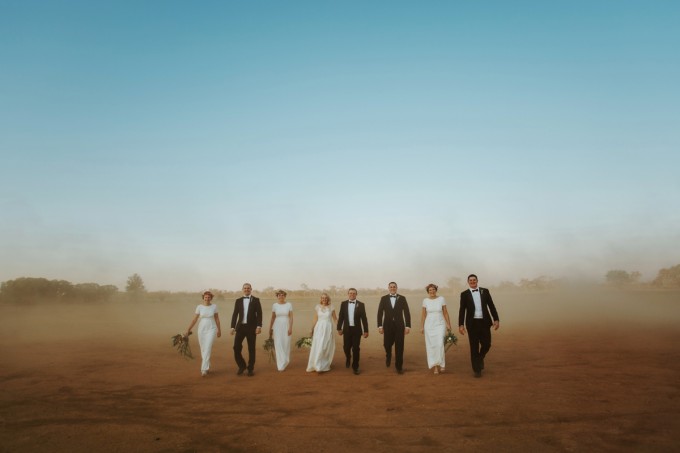 Share on Pinterest
When a drought struck Queensland, Australia last year, Ingrid Uebergang's family were forced to sell all the cattle from their 16,000-acre farm. So she made the deeply personal decision to return to the now-vacant farm for her wedding, where she hired photographer Edwina Robertson to photograph her wedding party amidst the desolation. Robertson shared the photo on Facebook and promised that, for every share the post got, she'd donate $3 to Tie Up The Black Dog, a charity dedicated to helping people in the areas affected by the drought that were suffering from depression and mental illness.
The post was shared by thousands of people around the world, raising $15,000 for the cause.
5. The Wedding that Got Trapped in an Elevator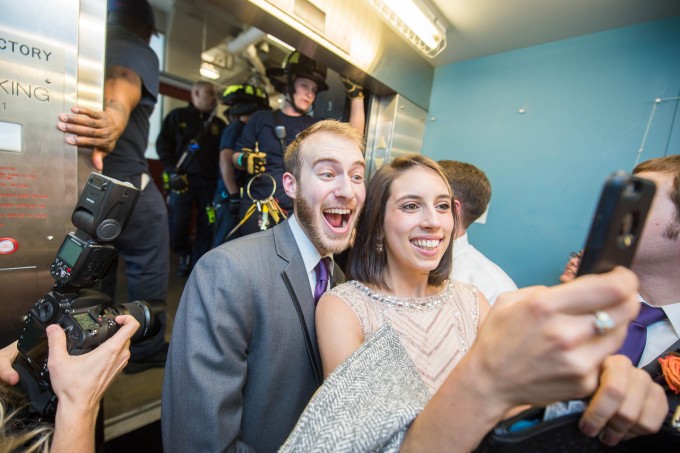 Share on Pinterest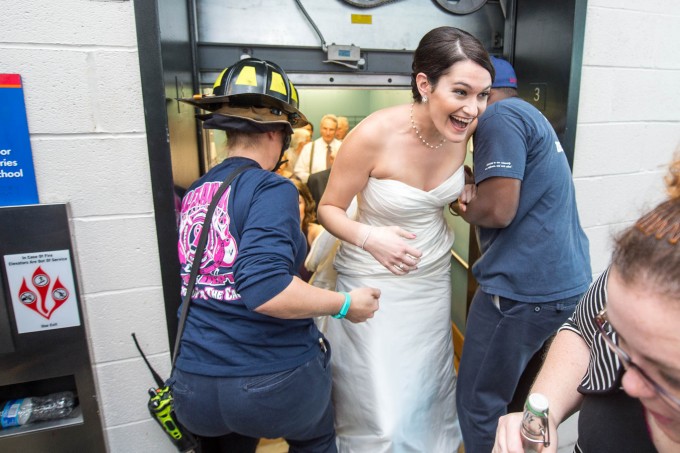 Share on Pinterest

Share on Pinterest
At Liz Copeland and Harry Stein's Virginia wedding last year, the couple, the bridesmaids and groomsmen, the photographers, and even the rabbi—24 people in total—ended up stuck in an elevator for half an hour on their way to the ceremony. Firefighters eventually freed them, but in the meantime, photographers Adam and Christy Kissick began taking pictures to capture the moment. The story told by the resulting pictures has caught the interest of national news outlets, Cosmopolitan, and even Ellen DeGeneres.
6. Touching Simplicity in a Marine's Wedding Photo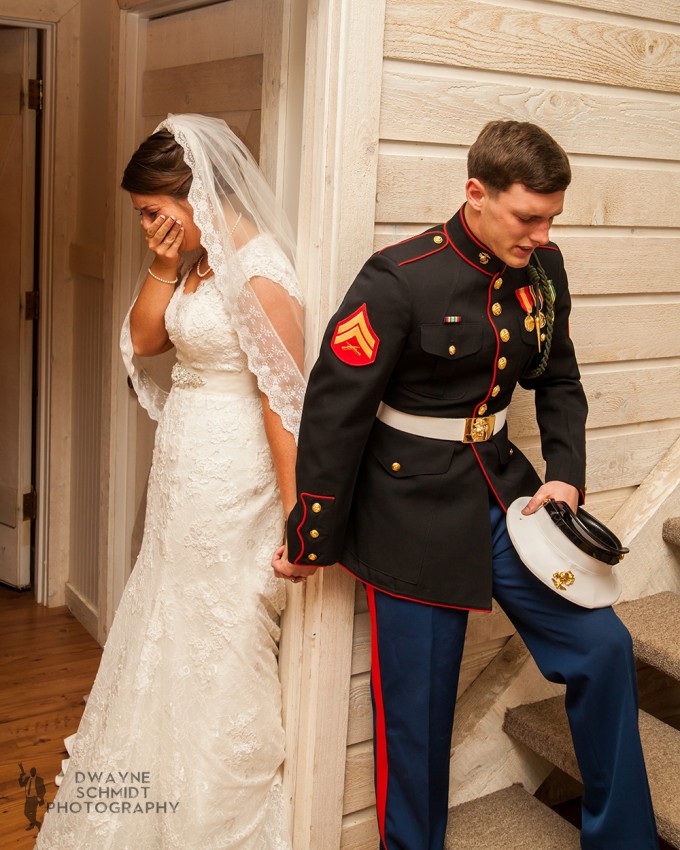 Share on Pinterest
From Dwayne Schmidt Photography
Among all the special effects and pop culture references, this photo is the odd man out. This shot of a Marine praying with his new wife resonated with a very different segment of the population, tapping into the traditional romantic and Christian values of a large segment of America.
It may lack the flash and spectacle of some of our other entries, but it doesn't need it; proving instead that a photo can tell a personal story that resonates with its audience on a deeper level.
7. A Bride Creates a Moving Memorial to her Daughter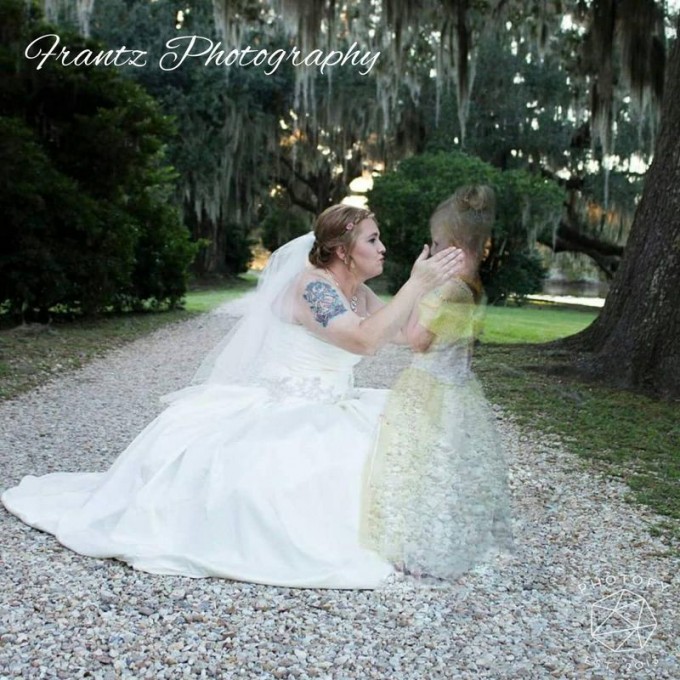 Share on Pinterest
When the (wonderfully-named) Azalee Freebird died of cancer at age 6, her mother Amanda decided that she couldn't stand taking her wedding photos without her. So, two years after her tragic passing, she asked photographer Ashley Frantz if she could incorporate one of Azalee's old photos into her new ones.
The haunting result shows Freebird kneeling on a forest path, clutching the ghost-like image of her daughter's cheeks. "You can't put a price tag on the happiness she has brought to my broken heart," she said of Frantz. "Azalee was my best friend, and the love we shared was so special and Ashley knows that, and she put her heart into creating a beautiful memory for me."
8. The Peck Family's Wedding Debacle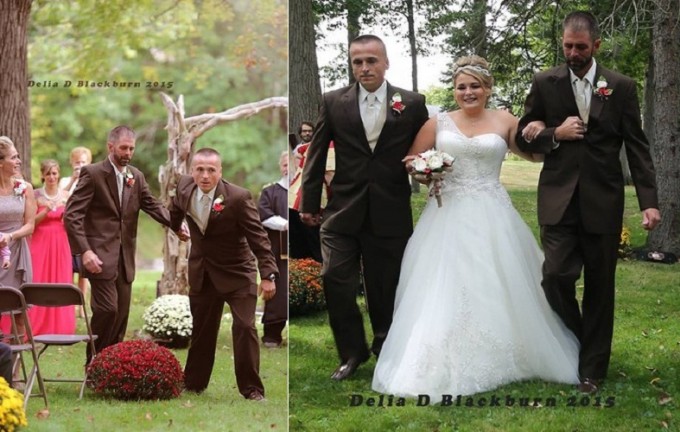 Share on Pinterest
The story behind the image itself is simple: At the wedding of Brittany and Jeremy Peck, photographer Delia Blackburn captured the moment the bride's father stopped the wedding procession to grab her stepfather so the three could walk down the aisle together. It was a perfectly-timed shot that resonated with families all over the world, and the image quickly began to rack up likes and shares. So far, so good…
But it was Blackburn's reaction to its popularity that caused things to go sour. She was five weeks late delivering the images to the clients, having chosen to post them to social media first, and allegedly wanted to sell posters of them. This caused a blowout between her and the family that escalated to the point of death threats, her Yelp page being flooded with negative reviews, and the bride's father threatening to sue. Did Blackburn's actions warrant such an over-the-top reaction? Of course not. But it's a lesson to creatives everywhere: always work things out with the clients before publicizing their images in any other way.
9. The Shields' Star Wars Wedding
As you might have noticed from how it shows up twice on this list, Star Wars is one of the most popular novelty themes for weddings, and pop culture loves the franchise, so it's not surprising this shot went viral.
"I came up with the idea from the 1977 poster," said groom Cory Shields.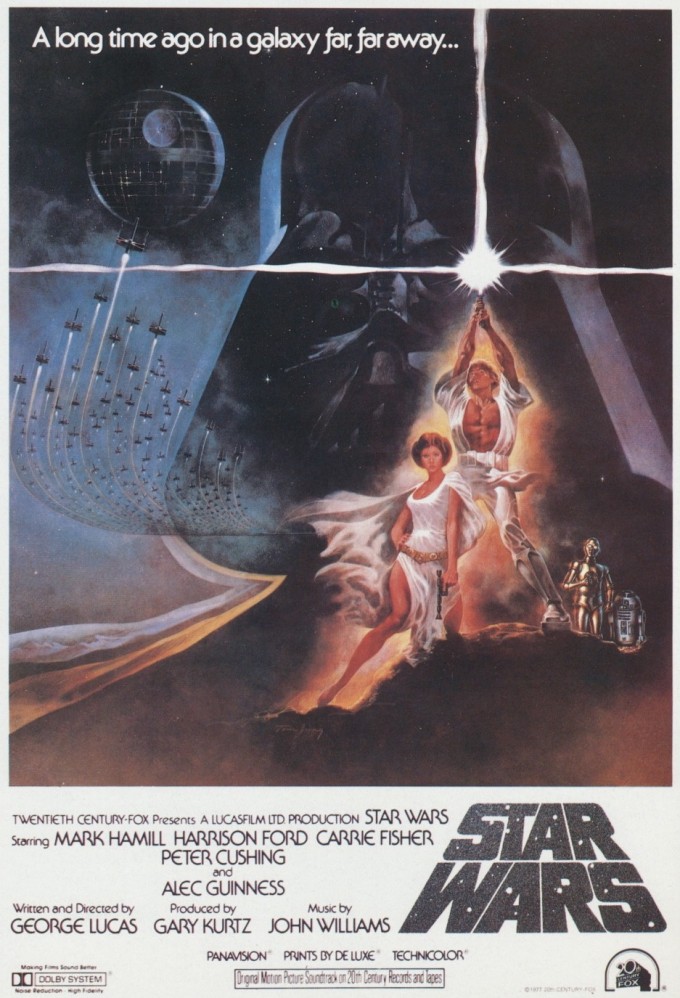 Share on Pinterest
From Tenth Letter of the Alphabet
…But he was quick to add that the bride, Carrie, was enthusiastic about getting the shot. Both of the Shields are huge fans of Star Wars, and the wedding also featured music from the films, a lightsaber-shaped cake cutter, and a working, full-scale model of R2-D2 as the ringbearer.
10. The Wedding That Wasn't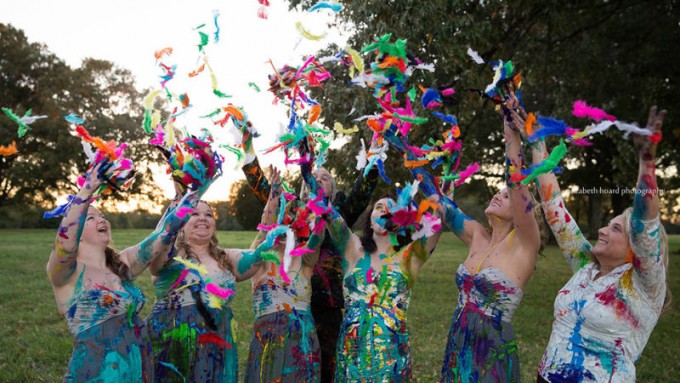 Share on Pinterest
Just five days before Shelby Swink's wedding, her fiancé left her. By that point, all the preparations had been made, and while the guests could be notified and the services canceled, there was still the question of what to do with the dress. She couldn't stand the idea of holding onto it, and selling it "didn't feel right." But when her friends and family floated the idea of trashing it, she decided to make a day of it.
So on the day she was supposed to be married, she invited her parents and bridesmaids over, where they all took turns throwing paint at each other while dressed in full wedding regalia.
Share on Pinterest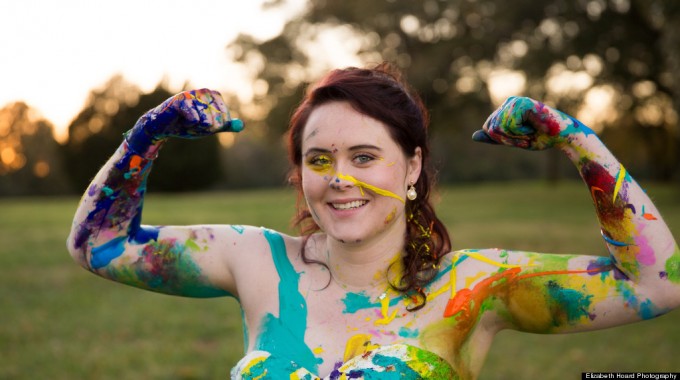 Share on Pinterest
Instead of truly destroying the dress, though, they ended up making it into a unique work of art, which is now on display at the Barefoot Bride, a bridal shop in Swink's hometown of Memphis.
---
Products Seen In This Post:
Source: Creative Market